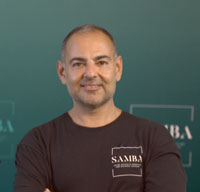 President of the Turkish Society of Plastic and Aesthetic Surgery.  
About me
Prof. Reha Yavuzer graduated from Anakara University Faculty of Medicine in 1992 with an honorary degree and received a Medical Doctor degree.
He had his Plastic Surgery training between 1992 and 1998 at Gazi University Faculty of Medicine, Department of Plastic Reconstructive and Aesthetic Surgery in Ankara Turkey.
Between 1998 and 1999 Prof. Yavuzer completed Craniofacial Clinical Fellowship program at Institute for Craniofacial Surgery under supervision of Dr Ian T Jackson, in Southfield, Michigan USA.
Prof. Yavuzer started to work as a junior staff member at Gazi University, Department of Plastic Reconstructive and Aesthetic Surgery in Ankara Turkey on September 1999, He was then promoted to Assistant Professor position in the same department on October 2001.
Prof. Yavuzer further studied in USA at Providence Hospital, Southfield, Michigan between 2003 and 2004. In May 2010 he gained the full Professor position.
He is currently holding the same academic position at Koc University School of Medicine, Department of Plastic Reconstructive and Aesthetic Surgery in Istanbul Turkey.
Together with his wife, in 2013, he established "René Clinic" which has a holistic approach to beauty and age management.
Prof. Yavuzer has both international and national publications exceeding more than 140 papers, mostly international receiving more than 400 citations.
He also held more than 200 presentations and lectures at various plastic surgery meetings. He conducted several workshops and hands-on training for various subjects of plastic surgery and minimally invasive aesthetic procedures mostly on breast surgery, rhinoplasty, maxillofacial surgery, neurotoxin and filler techniques.
René Clinic has the title of Center of Excellence for Composite Breast Surgery and Prof. Yavuzer runs international breast surgery courses regularly for international plastic surgeons mainly from Europe.
Prof. Yavuzer also holds several membership positions in international and national societies in the field of plastic and aesthetic surgery. He is currently a member of Executive Committee and acts as President Elect of Turkish Aesthetic Surgery Society.
Courses
Begin Your Aesthetic Medicine Journey:
Free Course Access
Experience SAMBA's high-quality aesthetic medicine training. Access a free course excerpt and quiz, perfect for beginners. Discover our comprehensive program and take your first step into a transformative career.