Providing Comprehensive Online Training and Practical Workshops, Guided by Renowned Experts in Aesthetic Medicine. 
SAMBA : Shaping the Future of Learning for Aspiring Aesthetic Medicine Specialists.
SAMBA Swiss Aesthetic Medicine and Business Academy is more than just a training program; it's the result of a heartfelt journey—a complete solution for those who want to become experts in aesthetic medicine. Our approach combines online learning with in-person practical training on models.
Our story began on Christmas Eve in 2021, during the challenging times of the COVID pandemic. SAMBA's co-founders, Dr. Patricia Delarive and Dr. Guilhem Poron, both had been working in the field of aesthetic medicine for a long time and shared the same observations : there was a noticeable absence of comprehensive courses in aesthetic medicine.
Driven by a deep sense of purpose, they embarked on an ambitious project with a simple yet powerful idea: create a hybrid program that combines online learning with in-person practice.
To bring this vision to life, they needed the best doctors from each field to teach. So, they invited skilled aesthetic physicians, dermatologists, and plastic surgeons from all over Europe to join them on this journey. Together, they built SAMBA—a place where passion and expertise come together, where eager learners discover the art of aesthetic medicine, and where dreams are transformed into attainable goals.
Throughout our journey, the core values of SCIENCE BASED, SAFETY, ETHICS, and HARMONY have been the cornerstone of SAMBA since its inception. These values have guided every step of our path, serving as the bedrock upon which SAMBA was built.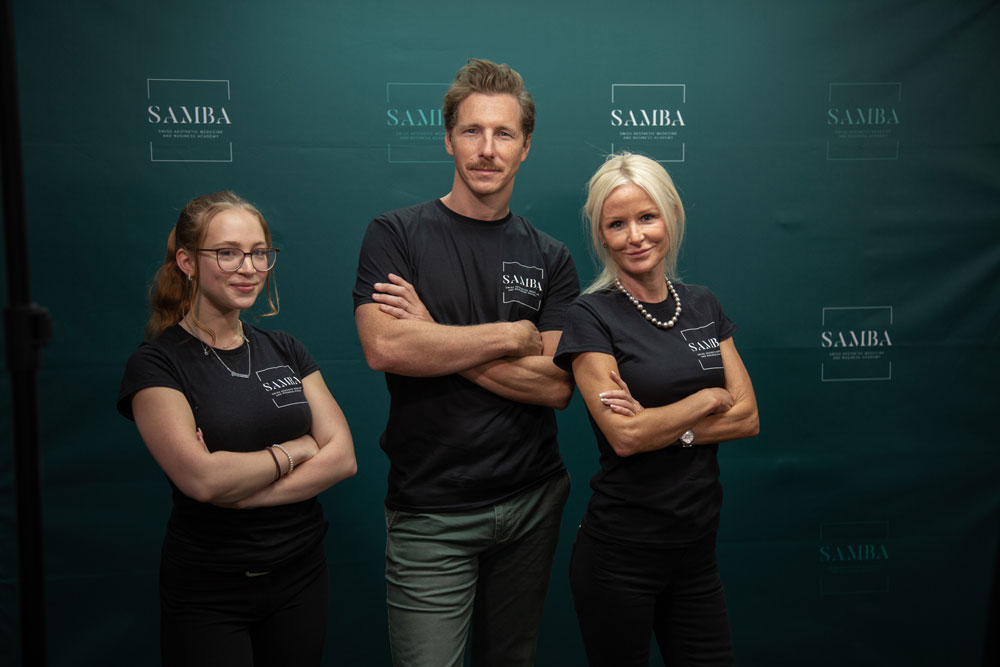 Meet the team behind SAMBA. From left to right : Anouk, the coordinator, Dr. Guilhem Poron, the Medical Director and lastly the president, Dr. Patricia Delarive.
Empowering Tomorrow's Leaders: Simplifying Aesthetic Medicine Through Proven Wisdom
The SAMBA story begins with a burst of enthusiasm from our founding members. They embarked on a mission to offer the very best in aesthetic medicine through a hundred online courses.
Our inspiration came from the success of Professor Ivo Pitanguy, an esteemed aesthetic surgeon who made surgical procedures simpler and safer in aesthetic surgery, and the PADI school, which teaches people to scuba dive safely in just a few days. These inspirations led us to create engaging educational courses that are vital for aspiring aesthetic doctors.
In March 2023, after two years of intensive production, the courses were finally ready and put online. The response was amazing : doctors loved being able to learn at their own pace. If they had questions or problems, they could get help from the SAMBA support team
The practical workshop day with expert doctors, following the online theory, became a highlight of their journey.
A strong community of doctors grew on the SAMBA platform. They shared their experiences and asked for advice on cases they encountered in their practice. SAMBA's expert doctors and other SAMBA graduates are always there to help with kindness and expertise.
SAMBA stands by you right from the beginning of your journey in aesthetic medicine and for the years that lie ahead.
UEMS‑Accredited Course
in Aesthetic Medicine training
Obtain CME/CPD points with our e-courses for continuing education.
The program is distinguished for its high scientific value and esteemed faculty of top-tier instructors.
Agreement with the American Medical Association ensures doctors' continuing education is recognized beyond Europe.
Benefit from financial aid & deductions for continuing education expenses.
1. Science-Based
Our teachers are recognized as experts in their fields of aesthetic medicine. The development of their courses is based on medical studies published in recent reference journals. All our courses are based on bibliographic references and Evidence-Based Medicine.
2. Ethics
In aesthetic medicine, we improve social well-being through the perceived appearance of patients. The entire faculty promote an ethical approach that places the patient's well-being at the center of the doctor's concerns. SAMBA promote a medical approach based on listening, respecting differences, and supporting patients to feel good at every stage of life.
3. Security
In every SAMBA course, the safety of treatments is a prerequisite for all taught procedures. The SAMBA courses design the field of modern aesthetic medicine. Safety-focused training is an absolute priority for the SAMBA academy, the only safeguard against aesthetic excesses.
4. Harmony
The SAMBA courses offer a harmonious vision of aesthetic medicine that respects the natural and unique appearance of each patient. Through a modern approach combining prevention and effectiveness, the SAMBA courses teach sustainable aesthetic medicine that is dedicated to patient support.
Frequently Asked Questions
Begin Your Aesthetic Medicine Journey:
Free Course Access
Experience SAMBA's high-quality aesthetic medicine training. Access a free course excerpt and quiz, perfect for beginners. Discover our comprehensive program and take your first step into a transformative career.