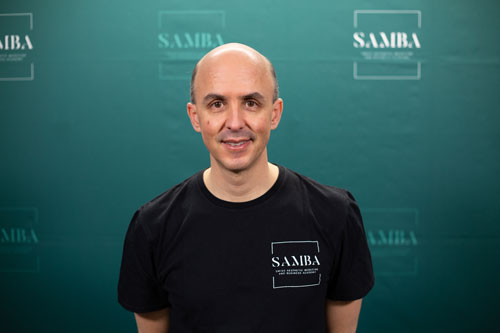 Head, Department of Dermatology and Venereology, CHUV.
About me
Prof Olivier Gaide is a board-certified specialist in Dermatology and Venereology and holds a PhD in Molecular Biology. He holds positions of responsibility at the University Hospital in Lausanne, Switzerland, where he heads two specialist units.
The first, the Onco-dermatology and Interventional Dermatology Unit, focuses on the diagnosis and treatment of skin cancers, including carcinoma, melanoma and lymphoma. Prof Gaide is particularly interested in the early detection of these cancers. He has developed innovative non-invasive microscopy techniques that enable the skin to be observed under the microscope, rather than having to take tissue samples. He is also studying the effects of electromagnetic radiation on skin cancers, including a revolutionary advance in radiotherapy known as Flash.
The second unit he supervises aims to develop the treatment of skin diseases using light (UV and visible) and surgery. Alongside his clinical work, Dr Gaide heads a research group in Lausanne that focuses on skin immunology and translational research.
In addition to his work on cancer, Dr Gaide has made significant advances in the treatment of rare genetic diseases. He has developed a protein-based therapy, designated as an orphan drug, to treat in utero a rare developmental disorder called hypohidrotic ectodermal dysplasia. The international study on this treatment is ongoing, but there have already been three proven therapeutic successes. Prof Gaide continues to work with dedication to improve the lives of people with skin diseases, from cancers to rare genetic disorders.
Courses
Begin Your Aesthetic Medicine Journey:
Free Course Access
Experience SAMBA's high-quality aesthetic medicine training. Access a free course excerpt and quiz, perfect for beginners. Discover our comprehensive program and take your first step into a transformative career.