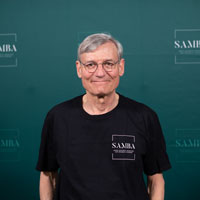 President of the Swiss Society of Dermatology and Venereology.
About me
Prof Daniel Hohl is a distinguished dermatologist and academician. He obtained his M.D. in 1981 and his doctoral degree in pathology in 1983 from the University of Zurich. Prof Hohl completed his residency in Dermatology Clinics at the University of Zurich from 1985 to 1990. During this time, he also undertook sabbaticals at the Dermatology Branch at the National Cancer Institute (NCI), NIH in Bethesda, Maryland, and Baylor College in Houston, Texas.
In 1990, Prof Hohl received the Swiss Board Certificate in Dermatology and Venereology FMH. He subsequently spent 12 years at the CHUV Hospital in Lausanne before embarking on a sabbatical in Paris at the "Hôpital Necker Enfants Malades" and "Hôpital St. Louis" in 2013. Prof Hohl has held several prestigious positions, including President of the MD-PhD Commission FBM, UNIL and EPFL, President of the European Society of Pediatric Dermatology, and EADV Board Director.
Currently, Prof Hohl serves as the President of the Swiss Society of Dermatology and Venereology and the President of the Statutes Committee of the EADV. He is an Honorary Member of the French and Serbian Societies of Dermatology and an Honorary Professor at FBM UNIL. Prof Hohl's contributions to the field of dermatology have been recognized globally, and he was awarded the highest academic accolade in dermatology by the International League of Dermatological Societies (ILDS). As the Médecin chef au Service de dermatologie, Prof Hohl has been honoured with what is considered the highest global academic recognition in dermatology.
Courses
Begin Your Aesthetic Medicine Journey:
Free Course Access
Experience SAMBA's high-quality aesthetic medicine training. Access a free course excerpt and quiz, perfect for beginners. Discover our comprehensive program and take your first step into a transformative career.