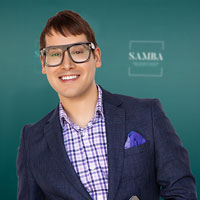 GLOBAL AESTHETIC MARKETING EXPERT
International Marketing Expert in Aesthetics. 
About me
Adam Haroun is fast becoming regarded as the most innovative voice in marketing for aesthetic practices – and in a short time has gotten the industry buzzing, bringing his message of marketing innovation and avoiding price competition industry leaders both in the Europe, the Middle East and the United States.
An acclaimed entrepreneur and marketing strategist, Adam established his events and marketing education company, Aesthetic Altitude, to remedy the 'disconnect' he first came to notice when seeking out his own treatments – that many exceptional practices rely on advertising that is both uninspired, and virtually identical to competitors
Adam is also the author of "Now The Patient Will See You" – the first and only book that serves as a strategic guide to branding and positioning for aesthetic practices; ensuring they never compete on price again.
Begin Your Aesthetic Medicine Journey:
Free Course Access
Experience SAMBA's high-quality aesthetic medicine training. Access a free course excerpt and quiz, perfect for beginners. Discover our comprehensive program and take your first step into a transformative career.