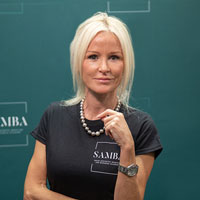 Specialist FMH in Dermatology and Venereology. 
About me
Born and educated in Switzerland, Patricia Delarive has been working for 10 years in the University Hospital of Lausanne, starting as an intern and later becoming a chief resident in the Dermatology Department.
Afterward, she embarked on her journey as a dermatologist by opening a private practice, with a primary focus on skin surgery and aesthetic medicine. Simultaneously, she took on the responsibility of overseeing aesthetic medicine at Clinic La Prairie in Montreux.
In 2007, together with her associate, she founded the Clinique Matignon, the first of its kind in Lausanne. Her passion for entrepreneurship led her to assume the role of CEO, guiding the company's growth. Today, the clinic employs around 100 professionals, including 15 doctors.
Driven by a commitment to medical excellence, scientific integrity in their services, and the satisfaction of their teams, she and her associates aim to democratize aesthetic medicine. Their efforts have resulted in the establishment of 14 centers in the French-speaking part of Switzerland.
In 2015, she expanded her knowledge by completing an MBA in Paris, which provided her with a broader perspective on the future challenges of the highly competitive world of aesthetic medicine. Deeply involved in the economic network in Romandie, she serves on numerous boards, utilizing her dual training to contribute to the smooth and positive development of this marvelous specialty.
Courses
Begin Your Aesthetic Medicine Journey:
Free Course Access
Experience SAMBA's high-quality aesthetic medicine training. Access a free course excerpt and quiz, perfect for beginners. Discover our comprehensive program and take your first step into a transformative career.