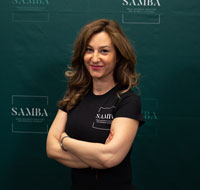 Dr Marie-Eugénie Nichanian-Broglia
Chief Medical Officer of the Matignon Group.
About me
Dr. Nichanian graduated from the Medical University of Marseille in 2012. During her studies, she became interested in oncology, dermatology, and emergency services. Her interest in aesthetic medicine quickly manifested itself. She attended the CIME course in parallel with her post-graduation as a general practitioner in 2010–2011.
She started both an aesthetics and GP practice for 2 years in Marseille, then moved to Switzerland for an exclusively aesthetic practice at Clinique Matignon.
Dr. Nichanian consults for the Clinique Matignon group, in Sion, Vevey & Lausanne, as a face & body injector expert & advising energy-based devices.
She has also been a chief doctor of the group for 3 years, responsible for scientific monitoring, recruitment of new doctors, and supervision of the medical team (10 doctors at the moment).
Over the past years, she has attended many trainings for expert-level injectors, & shared her experience & knowledge with new doctors.
She has also been a member of the SSME (Société Suisse de Médecine Esthétique) for many years.
Courses
Begin Your Aesthetic Medicine Journey:
Free Course Access
Experience SAMBA's high-quality aesthetic medicine training. Access a free course excerpt and quiz, perfect for beginners. Discover our comprehensive program and take your first step into a transformative career.