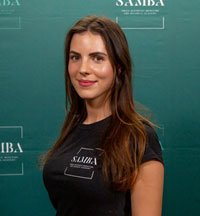 Aesthetic dental surgeon specializing in aesthetic medicine. 
About me
Dr. Diana Cerutti is an Aesthetic Dental Surgeon with specialized education and training in Aesthetic Medicine. She has worked at the Aesthetic Clinic in Geneva, Switzerland, since October 2021 under the mentorship of Dr. Nasser Madi, Aesthetic Physician and dermal injector trainer.
She has been training intensively in the aesthetic field since 2019 and has obtained certification from the European College of Aesthetic Medicine and Surgery (ECAMS), the world's leading institute for aesthetic training for doctors and surgeons. Dr. Cerutti has also completed her training at prestigious institutions, including Galderma, Merz, Allergan and IBSA with renowned aesthetic doctors from Switzerland and other parts of the globe. She is a faculty member at SAMBA (Swiss Aesthetic Medicine & Business Academy).
Dr. Cerutti believes that "less is more" for aesthetic treatments. By helping patients improve their looks and confidence, she encourages them to be the best version of themselves. She listens to patients' wishes before creating personalized treatment plans that fulfill their skin health requirements and beauty needs. Dr. Cerutti believes in natural beauty, and her patients appreciate her subtle aesthetic adjustments that enhance their existing features.
Her passion is to be innovative in the aesthetic field and continue to educate herself about the latest scientific research and cutting-edge aesthetic developments to provide the best treatment for her patients' specific needs.
Courses
Begin Your Aesthetic Medicine Journey:
Free Course Access
Experience SAMBA's high-quality aesthetic medicine training. Access a free course excerpt and quiz, perfect for beginners. Discover our comprehensive program and take your first step into a transformative career.