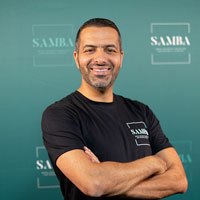 World expert in Biopolymers.
About me
Doctor in Pharmacy and Engineer in Mechanics by education, Dr. Basste Hadjab is an International Expert in Hyaluronic Acid. In early 2000's, he began his career in the pharmaceutical industry in Injectable drug manufacturing for oncology application and animal healthcare.
In 2006, Dr Hadjab decided to develop his career in Hyaluronic acid filler R&D, engineering and manufacturing. He actively participated in the development of the renowned range of HA fillers (Belotero®).
In 2014, Dr Hadjab centered his activities in Hyaluronic Acid toward scientific and medical education and delivered numerous lectures to the aesthetic medical communities as Independent Expert and as International Brand Director for Merz.
Currently, he contributes to the development of HA filler's science and more aims to develop disruptive innovation in the dermal filler arena for the next decade.
Courses
Begin Your Aesthetic Medicine Journey:
Free Course Access
Experience SAMBA's high-quality aesthetic medicine training. Access a free course excerpt and quiz, perfect for beginners. Discover our comprehensive program and take your first step into a transformative career.