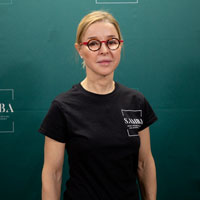 Dermatopathologist and skin care expert. 
About me

A distinguished alumna of the University of Barcelona, she completed her Bachelor (Licentiate) in Medicine and Surgery in 1992. By 1996, she further specialized in Pathology at the esteemed Hospital Clinic de Barcelona. Her relentless pursuit of excellence was validated with the European Board of Pathology recognition in 1997. That same year, she earned a Doctorate in Medicine and Surgery with honors, attaining a cum laude distinction from the University of Barcelona.
Her academic journey took a global turn between 1999 and 2003, as she became a Specialist in Dermatopathology at the prominent New York Presbyterian Hospital affiliated with Cornell University, USA. Concurrently, she enriched her administrative prowess by achieving a Diploma in Hospital Management, again cum laude, from the University of Barcelona in 1995. By 2003, she was certified by the ECFMG (Educational Commission for Foreign Medical Graduates) in the USA, making her mark in international medical circles. Her educational credentials were further enhanced with a Master's in Laser and Phototherapy and an accreditation in Aesthetic Medicine, both endorsed by the COOMB, the Official College of Physicians of Barcelona. Her leadership acumen is evident as she holds the esteemed position of Medical Director at the CoolSculpting University under Allergan Medical Education in Barcelona.
Her professional journey is no less impressive. She began as a Resident of Pathology at the Hospital Clinic, Barcelona, between 1993 and 1996. This was succeeded by a year as a post-doctoral researcher and subsequent elevation to Senior Pathologist in 1999, all within the same institution. Her academic involvement flourished as she took on roles as an Associate Professor of Pathology, first at the University of Lleida in 1999, and later at the Autonomous University of Barcelona from 2004 to 2008.
Between 1999 and 2003, she delved deep into dermatopathology as a "Research and Clinical Fellow" at the New York-Presbyterian Hospital. Her entrepreneurial spirit manifested when she founded and directed ARS DIAGNOSIS, a private pathology laboratory in Barcelona, from 2003 to 2018. The aesthetic domain saw her leadership at the helm of the Laser Unit of an aesthetic clinic between 2006 and 2010, and subsequently, as the director and owner of Ribe Clinic, an avant-garde dermatological and aesthetic medical laser platform in Barcelona. This venture continues to flourish, expanding even to Andorra in 2019. Her expertise is globally recognized, serving as a consultant for major laser companies like Syneron-Candela, Thermi, and Cynosure, among others.
Her dedication and contributions to the medical field have been rewarded with various honors, including scholarships and certifications. She holds memberships in prominent professional organizations such as the Spanish Medical-Surgical Laser Society, the Spanish Society of Pathology, and the United States and Canadian Academy of Pathology. Moreover, she has published extensively in leading national and international journals of Pathology, Dermatopathology, and Laser.
Courses
Begin Your Aesthetic Medicine Journey:
Free Course Access
Experience SAMBA's high-quality aesthetic medicine training. Access a free course excerpt and quiz, perfect for beginners. Discover our comprehensive program and take your first step into a transformative career.